Post Season Awards
Congatulations to All the Hurricane players and coaches on having a perfect season. Some of the 'Canes picked up some post season hardware.
Dale Menendez -- All-Long Island
Jermain Hollman -- All-Long Island
Bronson Martin -- All-County
Jason Ritche -- All-League
Duane Sanders -- All-League
Mike Ford -- Hon. Mention All-League
Jeremy Liggon -- Hon. Mention All-League
Rich Wrase -- Suffolk County Coach of the year.
FEDERATION CHAMPIONS!!!!


Congraduation to the 1997-1998 Westhampton Beach Hurricanes who became the best team in the state by beating St. Mary's and Wadleigh to become the New York State Federation Class B State Champion. The Canes led by seniors Jermain Hollman, Dale Menendez, Jason Ritche and Mike Ford are the only undefeated boys basketball team in the state!!

< STATE CHAMPIONS!!!!
The Westhampton Beach Boys basketball team captured their first New York State public school championship by beating defending champion Westhill 56 to 36.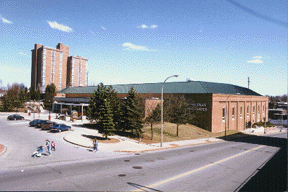 See Story
State Federation Championship Preview

Jason Ritchie, Bronson Martin, Jeremy Liggon, Mike Ford and Mark Green live on Hazelwood Avenue, just off Montauk Highway and a short walk from Westhampton High School. Four of the five also happen to be key contributors to the Hurricanes boys basketball team's incredible success this season.
Their presence lends credence to coach Rich Wrase's boast that his is a neighborhood team, a remarkable fact considering Westhampton is coming off its first state public schools Class B championship.
The season is not over yet for Westhampton, though. The Hurricanes (26-0), who can lay claim to being the best public school team on Long Island this season, will face the top CHSAA team on the Island - St. Mary's (21-4) - in tomorrow's Class B semifinal of the state Federation tournament at the Glens Falls Civic Center.
"I guess we are going to find out who's better - the public schools or the Catholic league," Wrase said. "Our teams are similar. The only thing that I find a little different is most of the St. Mary's kids are not from Long Island. My kids are neighborhood kids. The St. Mary's kids belong to the United Nations."
Wrase has a point. The Gaels' 6-8 center, Joakim Eriksson, is from Sweden and versatile 6-6 Brice Petit is from France. St. Mary's coach Tim Cluess admits as much. He also sees it as a plus for the Hurricanes. "My kids have been playing together for five months," he said. "Westhampton has been together five years."
That said, the matchup will be one of the best this season. Both teams feature fantastic point guards and fine inside play. Look for each team to run. Defense, however, may be where the game swings. Eriksson (12 points, 8 rebounds) makes it difficult for guards to penetrate with his long reach. But the Hurricanes can counter with 6-5 Jermain Hollman and a defensive unit that traps without mercy.
"Their pressure is a big key," Cluess said. "If you turn the ball over a lot, they will turn it into easy points. We think if we shoot the ball well and keep turnovers down we will be right there with them."
The game should come down to each team's backcourt. Sophomore point guard Joel Suarez (19 points, 5 assists) and 6-4 junior guard Jim Frauenberg, who has scored 41 points over his last two games, lead the Gaels. The Hurricanes will rely on senior point guard Dale Menendez, who scored 19 in the title game to earn the state Class B tournament MVP award, and Martin, a sophomore with long range.
"I told my kids this is a nice opportunity to showcase their talent," Wrase said. "It's great to get to go back to Glens Falls."